Restorative Justice Practices Project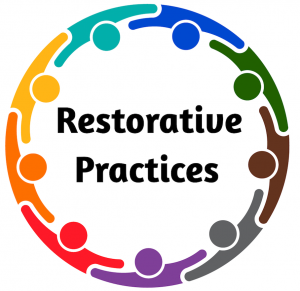 Background
The Tow Youth Justice Institute began work on the Restorative Justice Practices Project (RJPP) in the fall of 2016, as a part of the Child Health and Development Institute's School-Based Diversion Initiative.
The School Based Diversion Initiative (SBDI) was developed with grant funding from the John D. and Catherine T. MacArthur Foundation's Mental Health/Juvenile Justice Action Network. SBDI implementation is jointly funded and overseen by the Judicial Branch Court Support Services Division (CSSD), the State Department of Education (SDE), and the Department of Mental Health and Addiction Services (DMHAS). CHDI is the coordinating center for SBDI.
The SBDI has served 48 schools across 17 school districts, and continues to expand to additional schools each year. TYJI provides training and technical assistance with local middle and high schools to:
Provide training to help school personnel identify children with behavioral health needs
Build connections between schools and effective community-based mental health services, as an alternative to arrest, suspension and/or expulsion
Revise schools' policies and practices to increase capacity for responding to the mental health needs of all students
Other Restorative Work
In addition, the RJPP provides a range of training content, from introductory information through advanced level practices. An effective Restorative approach creates an environment where individuals take ownership of their behavior, increase their empathy for the experiences of others, and work to rebuild relationships when harm occurs.  We train under the International Institute for Restorative Practices (IIRP) model, and the Suffolk University Center for Restorative Justice models, providing the following trainings:
Introduction to Restorative Practices (IIRP)
Using Circles Effectively (IIRP)
Facilitating Restorative Conferences (IIRP)
A Brief Overview of Restorative Practices (TYJI)
A Deep Dive into Circle Work (TYJI, adapted from Suffolk)
A Brief Overview of Restorative Justice (TYJI)
RJPP also provides custom-made professional development sessions by school  and community non-profit request, ranging from one-hour to full-day sessions. Our robust training menu now includes providing school-centered technical assistance. We tailor our implementation support to reflect the goals of each school and non-profit, and work to establish meaningful relationships with each of our partners.
Examples of our technical assistance services include:
Implementation progress assessment
School-centered implementation planning
On-demand materials cultivation and resources
Problem-solving and general implementation coaching