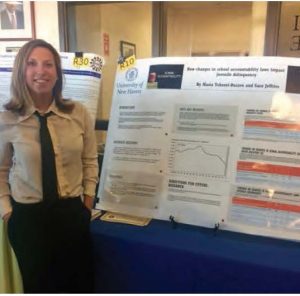 Working with TYJI provides students with significant opportunities and exposure to present their work at national conferences. The presentations of these projects include both faculty and students who are under the supervision of the Director of Research, Dr. Danielle Cooper.
Below are some of the examples of the most recent presentations delivered by TYJI student researchers.
American Society of Criminology
Sarah Giarrusso and Danielle Cooper presented, An Inventory of Juvenile Justice Curriculum in the Largest Criminal Justice/Criminology Programs in the US in November 2018. Overall, the findings from this study suggest that colleges rarely offer more than one juvenile justice course; even fewer offer a multi-course concentration on the topic.
Sara Jeffries, Sarah Giarrusso, Lanmeng Ma, Melissa Pierre, Kendell Coker, and Danielle Cooper presented, Examining Race and Recidivism among Connecticut Youth Formerly in Congregate Care in November 2018. In order to examine variations in experiences at juvenile and adult facilities, the researchers reviewed videos and reports of incidents involving minors in Connecticut's state-run facilities from 2015 to 2016. The systematic review included the coding of videos and incident reports and it focused on the prevalence of the use of restraints/seclusion, cause of the incident, descriptions of staff involved, nature of the incident, and the behavior of youth following the incident.
Academy of Criminal Justice Sciences
Lanmeng Ma and Danielle Cooper presented, Examining Variations in US Educational Policies and Legislation Defining Truant and Chronically Absent Students. This study examined educational and legal definitions of truancy and chronic absenteeism throughout the United States using a content analysis approach.
American Society of Criminology Conference
Gabriela Brito and Danielle Cooper presented, Examining the Use of Truancy Models Addressing Chronic Absence in Schools throughout the United States in November 2017. This study identified various programs that are used throughout the United States that address chronic absence in schools and an online questionnaire was administered with various questions regarding each program. These questions asked for information about program history, funding, training, and youth and family demographics.
Melissa Pierre, Danielle Cooper, and Kendell Coker presented, Mental Health Symptoms, Delinquency, and Recidivism among Justice-Involved Minority Youths in Connecticut in November 2017. This research project focused on Black and Hispanic juveniles incarcerated in a detention center or correctional institute for the first-time. Bivariate and multivariate analyses were conducted using the following variables of interest to predict rearrests in a 12-month period: age, race, ethnicity, criminal history, and substance use history.
Sara Jeffries, Danielle Cooper, and Kendell Coker presented, Examining Race and Recidivism among Connecticut Youth Formerly in Congregate Care in November 2017. Using data from 2005 to 2015, this study explored whether changes occurred in the demographics of youth committed to public and private congregate care facilities. Regression analyses were used to predict rearrests and convictions in a one year follow up period.
Sarah Giarrusso, Danielle Cooper, and Kendell Coker presented, Investigating Racial Disparity among Non-committed Juveniles Offenders Using Different Recidivism Time Periods in November 2017. This study utilized data from several Connecticut juvenile justice agencies over a ten-year period (2005-2015) to analyze racial disparities in arrests and reconvictions. Additionally, the researchers examine whether racial disparity changes as the follow up period of recidivism is examined over 6 months, 12 months, 18 month, and 24 months.
American Criminal Justice Sciences
Sarah Giarrusso, and Danielle Cooper, Discussing the Status of Juvenile Justice Education through Course Offerings and Concentrations. This paper was presented at the American Criminal Justice Society Annual Conference, Kansas City, MO. It examined the availability of juvenile justice courses and concentrations across the United States. Researchers selected programs at two institutions from each state (one public and one private). The programs came from the universities with the largest student enrollment.