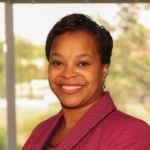 Janeene K. Freeman
Director, Education & Youth Development Fairfield County's Community Foundation
Janeene Freeman joined the Community Foundation in 2018. As Director of Education & Youth Development, Janeene is responsible for leading our education grantmaking, ensuring that our funding is aligned with our strategic plan and results framework.
Prior to joining the Community Foundation, Janeene worked for New Haven-based Northeast Charter Schools Network (NECSN), where she served as the Chief Executive Officer. Janeene led and set the strategic vision for this multi-state advocacy and membership organization that supports the growth and development of high-quality charter schools in New York and CT. At NECSN, Janeene was responsible for managing a $2.3M operating budget.
Prior to joining the Northeast Charter Schools Network, Janeene worked for 17 years at the Community Service Society of New York (CSS), a highly regarded, 170 year-old, poverty-fighting organization that serves more than 3 million low-income New Yorkers. Janeene began her career at CSS as the Special Assistant to the President and rose to progressively more responsible programmatic positions. For nine years, Janeene was the Director of Government Relations. In that senior leadership role, she developed strategy for implementing CSS's legislative agenda at the local, state and federal levels.
Janeene holds a BA in Government from Wesleyan University and an MPA from Columbia University. She sits on the board of Girls Lead Inc., a leadership development program for young girls that prepares participants for college and beyond. Janeene lives in Stamford, CT with her husband Paul, and their children, Jayden and Nia. Janeene loves spending time with her family; cheering on her children at sporting events; and reading a good book.