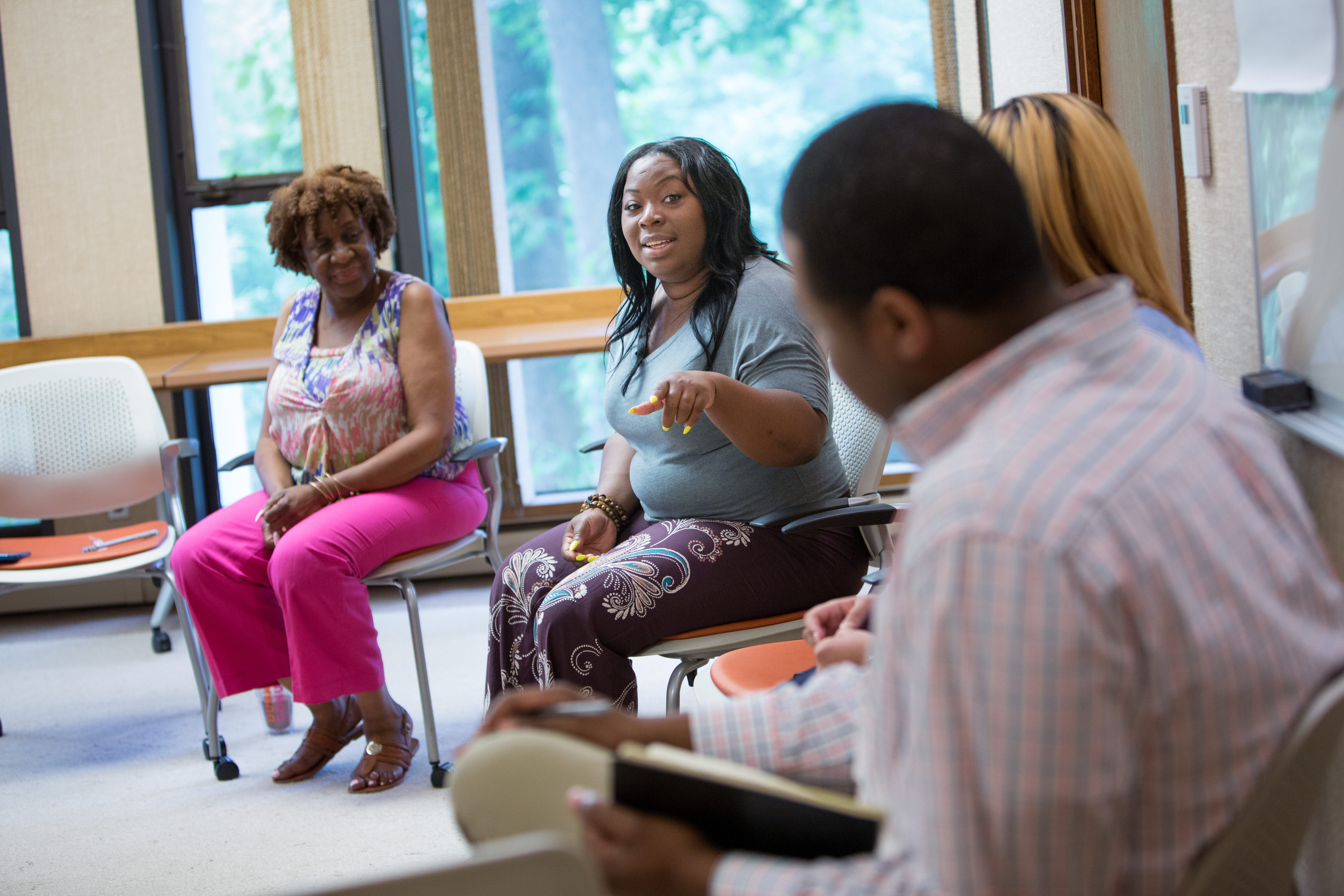 Goal #2
EDUCATE POLICY MAKERS, PRACTITIONERS, AND THE COMMUNITY ABOUT WAYS TO ADVANCE JUVENILE JUSTICE REFORM AND ACHIEVE BETTER OUTCOMES FOR YOUTH
The Tow Youth Justice Institute will implement leadership development training for those working in the youth justice field, enhance police-youth relations through training, and promote and innovate Restorative work in all youth serving systems in the state.
The TYJI established a leadership development program that engages a new team of (12-15) mid-level reformers each year who initiate, support, implement and sustain local and statewide efforts that best serve youth, families and communities across service systems to limit risk and exposure to the juvenile justice system. Participation in the Transforming Youth Justice Leadership Development Program increases visibility, and links individuals from a wide range of organizations, and regional/state networks to state and national level juvenile justice system changes. The program creates safe spaces for learning and critical reflection on a developmental approach to juvenile justice (e.g. adolescent brain research), the use of best practices (family outreach and active engagement), and tools for measuring results (Results-Based Accountability and data-driven decisions). The nine monthly one-day sessions are augmented with a field experience, readings, or events between sessions, and culminate in a Capstone project plan.
The curriculum for the Transforming Youth Justice Leadership Development Program is intended to ensure a current and future workforce of youth justice leaders who are committed, competent and passionate about making the system work effectively and support positive change for all young people in every community. The core curriculum focuses on leadership development skills, youth justice reforms, and best practices in core competencies including empirical research, data utilization, collaboration, and presentation skills.
Session topics include:
Connecticut's juvenile justice system
Adolescent development and trauma
Getting results (data and outcomes)
Advocacy
Legislative reform initiatives
Family and community engagement
Cohort leaders explore current youth justice systems operating within the state and identify collaborative leadership opportunities to advance reform efforts
The Capstone proposals turn dialogue into action on critical youth justice issues at the local, regional and/or statewide level. They are developed through a guided process utilizing collaborative leadership skills and The Five Practices of Exemplary Leadership®, while exploring relevant youth justice topics, preparing to deliver presentations on best practices, and reflecting on key learnings.
This year, we will launch a formal Alumni Network with the three graduated cohorts and the current fourth cohort to keep momentum going and facilitate leadership and best practices in the fields of community youth development and juvenile justice across multiple systems to better serve all of Connecticut's youth and families.
Activities will include:
Hosting alumni network events
Developing an Alumni communication plan
The strength of the alumni network will be measured by their ongoing participation in collaborative learning communities, involvement in leader/alumni mentorships, continued participation in support of newer cohorts, and ability to build collaborations and networks across branches of governments, service providers, agencies, advocacy groups, etc.
Going forward, we will look to:
Increase the number of applicants
Diversify applicant pool
Develop new collaborations with entities that have yet to be engaged such as public housing, religious organizations, and affinity groups
Strengthen relationships with existing partners and key stakeholders
Raise awareness and increase the impact of the program
In addition, a formal evaluation of the program is being developed.
The TYJI currently manages Restorative Practices training and technical assistance for the School-Based Diversion Initiative (SBDI) at the Child Health and Development Institute across the state.
Training and technical assistance will consist of:
Restorative Practices training for SBDI district staff ranging from community building practices (preventative) to how to respond to serious harm (responsive)
On-demand professional development sessions
Technical assistance & implementation coaching
Quality Assurance
Our goal under the SBDI contract is to effect positive outcomes for Connecticut's school districts most at-risk for juvenile justice involvement. To accomplish this goal, we work to increase knowledge and understanding of Restorative Practices and Restorative theory within school populations, foster the implementation of Restorative practices within school settings, increase positive school climate through nurturing Restorative relationships, and reduce in-school suspension, out-of-school suspension & school-based arrests through Restorative responses to behavioral problems. SBDI training and technical assistance will be provided each school year of this strategic plan implementation cycle (2018-2019, 2019-2020, 2020- 2021), based on continued funding of the RJPP contract by the Child Health and Development Institute.
Currently there is not a mechanism in the State of Connecticut for integrating new, trauma-informed and innovative curriculum on juvenile justice for the police agencies across the state. Youth policing requires specialized skills, and comprehension of youth development, as well as understanding the impact of trauma on youth and families, implicit bias and many other skills that are not covered as part of the Police Officers Standards and Training Council (POST) – where only three hours of youth justice are covered as part of the curriculum.
The Connecticut Institute for Youth and Police Relations (CIYPR) will promote reforms led by police leaders who will become the vectors of change in Connecticut. The goals are to a) create community within the cohort, as well as across local departments and youth serving organizations, and b) coordinate resources and information needed to support reform efforts. The 8 month training curriculum includes the following components:
Intensive seminars on the criminological research and best practices for police interactions with youth, as well as highlights agency successes in other parts of the country;
Examples and support in the development of comprehensive, developmentally appropriate, trauma-informed, racially equitable policies for adoption by local police agencies;
Innovative programming for police agencies to build relationships with youth;
Leadership skill building, and intensive coaching;
A cohort of police leaders who become the voice for reform and support each other's success and protect each other confronted with obstacles and setbacks; and
A significant momentum statewide by seeding many of the state's police agencies with leaders adopting 21st century police approaches.
To evaluate the implementation and outcomes of the program, data will be collected and assessed from a variety of sources. During the recruitment process, the geographic scope of exposure, number of total applicants, and total number of final participants will be assessed. Before the program and after completion, participants will be asked to complete an online questionnaire measuring their attitudes and awareness about youth, youth justice, and juvenile justice issues and efforts locally and nationally. During the program, participants will take brief questionnaires to check-in throughout the day about the speaker and activities. The capstone will serve as the overall assessment of the participants' learning and ability to apply the training in the workforce and community. At the end of the training, additional follow-ups will be conducted with the participants to continue technical assistance, as well as gauge additional changes or progress with the individual officer and their agency. This evaluation plan serves to aid the development and piloting of the training and provide start-up structure for a long-term evaluation of the efficacy of the program.