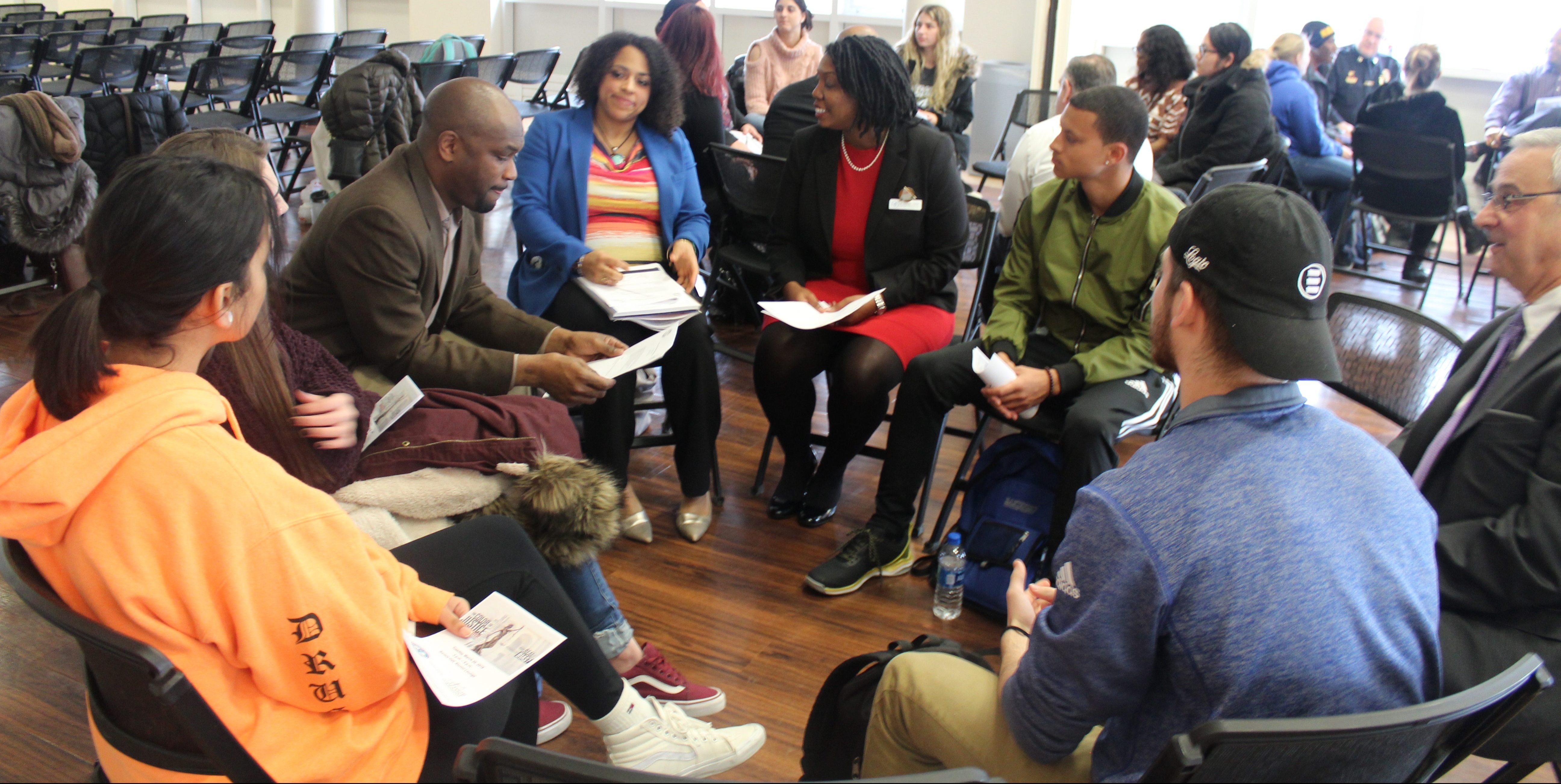 2018 Events
Tow Youth Justice Institute Open House-
October 25, 2018
Students in the Henry C. Lee College criminal and juvenile justice programs attended an Open House at the Tow Youth Justice Institute. Students had the opportunity to meet with staff members and learn about the many projects TYJI works on to reform the juvenile justice system in Connecticut.
Taking a Stand for Juvenile Justice. A Panel Discussion on Fostering Better Youth and Police Relations

November 13, 2018
Students were asked to use critical thinking and participate in meaningful discussion about the ways in which various groups provide impactful protest to raise awareness of social justice issues. For decades, professional athletes have used their public platform to bring issues to light and most recently, NFL players taking a knee during the National Anthem. Students were asked to reflect on what proceeded this recent form of protest and what they can do as future reformers. The panel discussion was moderated by Dr. Kendell Coker, Assistant Professor of Psychology. The event was co-sponsored by the American Criminal Justice Association, the NAACP Club, the University of New Haven's Myatt Center of Diversity and Inclusion and the TYJI.
Color of Justice Revisited

Tuesday, March 20, 2018
Students watched the Color of Justice Revisited and discussed their reactions to the documentary which addresses racial and ethnic disparities in the juvenile justice system. Experts in the field of Juvenile Justice facilitated conversations and addressed questions. Students' thoughts for action will be published in a Tow Youth Justice Institute publication as a follow-up to the event.
Christine Rapillo, Chief Public Defender, Office of the Chief Public Defender
Francis Carino, Supervisory Assistant State's Attorney for Juvenile Matters, Office of the Chief State's Attorney
Mike Lawlor, Under Secretary Office of Policy and Management, University of New Haven Faculty
Leon Smith, JD, Director, Racial Justice Project, Center for Children's Advocacy
Christina Quaranta, Director of Policy and Community Connections, CT Juvenile Justice Alliance
Justice Advisors, CT Juvenile Justice Alliance
Capt. Chris McKee, Suffield Police Dept.
Officer Vince O'Banner, University of New Haven Police Dept.
Asia (Hutchins) Ly Nhavatong, OPM/JJAC – University of New Haven 2017 Alumni