During the 2019-2020 academic year I worked for the Tow Youth Justice Institute Research Team under the guidance of Dr. Cooper. Dr. Cooper has helped develop my skills in Microsoft Office, Microsoft Teams, SPSS, and Qualtrics, and offered many valuable learning opportunities. I had the opportunity to work on the Georgetown Capstone Project, The Connecticut Institute for Youth and Police Relations training, and assist on a variety of other projects. In addition to the research projects being conducted, I had the opportunity to help plan The Tow Youth Justice Institute Five-Year Anniversary and the Critical Perspectives on Drugs event. I have also been able to participate in meetings regarding juvenile justice and youth in the state of Connecticut. I was able to attend JJPOC
meetings in Hartford, JJPOC workgroup meeting, The Dispute Resolution Workshop at Yale, Katal meetings, IMRP CT Reentry Collaborative meetings, and a few other webinars and statewide calls. My involvement on the Research Team has had a profound impact on my ability to collaborate and conduct meaningful research. Over the past year, I have learned that research and advocacy can be very rewarding. The Tow Youth Justice Institute has shown me the tangible application of research through directed policy recommendations. The experiences made available to me by the Tow Youth Justice Institute have helped me better understand the importance of research, and how it can be applied to help others. While conducting research, it is important to stay organized, which I have found to be much easier with the use of Microsoft Teams. The Microsoft Teams software is a wonderful data storage and communication program that I will continue to use to catalog the work that I do. I am grateful to have been introduced to this program by Dr. Cooper.
My most significant accomplishment this semester has been helping develop an evaluation for The Connecticut Institute for Youth and Police Relations. The University of New Haven is a tight-knit community that has invested in providing me an excellent education through my coursework and my fellowship at the Tow Youth Justice Institute. This semester has been particularly challenging due to remote learning and working, but this different type of learning has forced me to embrace learning through a different medium, and develop skills in telecommunication that I rather wouldn't have developed.
"Paul has been an asset to the research team during his first year at the University. He has grown as a researcher and future academic over this brief period. Our time spent developing the evaluation plan for an upcoming police training has allowed Paul to make critical recommendations and changes to work that will hopefully support youth and police in positive relations."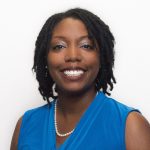 Dr. Danielle Cooper
Director of Research