Olivia Bissanti will be graduating in 2021 with a Bachelors's Double Major in Political Science and Psychology.  She is a senior and a returning intern with the TYJI.
My goal for my internship is to improve my research skills and build upon my previous projects with the Tow. I think it is a perfect intersection between my two majors. I also have an interest in juvenile justice so I enjoy working on projects which focus on that."
Most of the work I do for TYJI is synthesizing aggregate data and working with current event articles. I think the opportunity to work with TYJI is so important to me because it's an institution that works closely with the CT government, so we are able to make measurable change to many lives through the advocacy done at JJPOC. While I don't have a seat at the table for these meetings, I know that the research time helps get much of the data and information ready to be presented at these meetings where law/policy is made for juveniles in the state.
I learned that school disciplinary systems can play a major part in behavioral trends for juveniles. I never considered how large of a role school disciplinary policy plays but working on the school-based diversion project showed me how important it is to provide kids who break school rules with resources and alternatives. I think too often people consider the juvenile justice system as just including law enforcement, when preventative measures are just as important.
This experience will help me in the future because it has really showed me how the many entities in policy, advocacy and research work together. Watching JJPOC meetings and hearing about the different projects me and the other researchers work on taught me that there are many different groups who all have a common goal of helping the youth population in CT. It really helped me narrow what kind of specific work I want to do in the field of advocacy as I never realized how many options there was before this.
I'd say my biggest accomplishment is the Youth at the Border project I did. While it isn't entirely done, I spent many hours learning about the immigration detention centers which were a major news story this past summer. I was able to apply my knowledge on policy and law to understand how this happened, who was impacted and what kinds of long-term ramifications this will have on immigrant children.
This semester was really busy and crazy for me considering we are now at home because of COVID-19. I am glad we are able to continue our work with TYJI but miss being on campus![/vc_column_text][/vc_column][/vc_row]
"Olivia joined the research team over a year ago as a sophomore eager to get involved. During our time working together, she has demonstrated her superlative oral and writing skills through several projects—most recently an issue brief on the treatment of migrant youth at the southern border. I am honored to work with someone who has such a passion for policy and advocacy. I look forward to continuing to work together in her senior year at the University.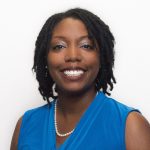 Dr. Danielle Cooper