Most of the work that I have done with the TYJI has involved diversionary practices, particularly schoolbased diversion. I collaborated with staff to propose a definition of school-based diversion to the JJPOC's school-based diversion subgroup in the summer 2019. In late fall 2019, a school-based diversion inventory
was devised and sent out to middle and high schools in Connecticut in order to gather information on what policies and procedures are being implemented in schools regarding diversionary and disciplinary practices. Being able to work on these various projects has been an extremely rewarding experience. I have been able to learn so much and have been exposed to situations and people that I would not have been otherwise. Being a member of the TYJI research team has allowed me to grow in many ways and broaden my perspective. I have learned what it truly means to be part of a team and that there are numerous people
advocating and passionate about youth justice in Connecticut. My experience with the TYJI will help me in the future because of all of the tools I have been able to acquire along with the ample events and stakeholders that I've been exposed to. I have been able to experience various facets of the juvenile justice
system as a whole that will serve as a significant benefit for my future career. Some of my significant accomplishments this semester includes maintaining a Graduate Deans Scholarship as well as being selected to participate in the Graduate Student Showcase. This semester has brought many ups and downs, but I have had an amazing experience so far at the University of New Haven. I have learned so much just in this semester and have gained several tools and
experiences, many from my involvement with the Tow Youth Justice Institute. I am extremely thankful for the time I had have at the University so far and especially my work with the TYJI.
"Alison jumped right in during the summer of 2019 to kick start our research on school-based diversion. In less than a year, she has been integral to the review of the literature, interviews with key stakeholders, and a survey of middle and high school administrator. Her observations and analyses have led to the development and refinement of a definition of school-based diversion. As her MA program comes to a close in the fall, it is clear that Ali is destined to make great contribution to the field of youth justice."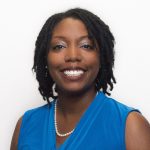 Dr. Danielle Cooper
Director of Research