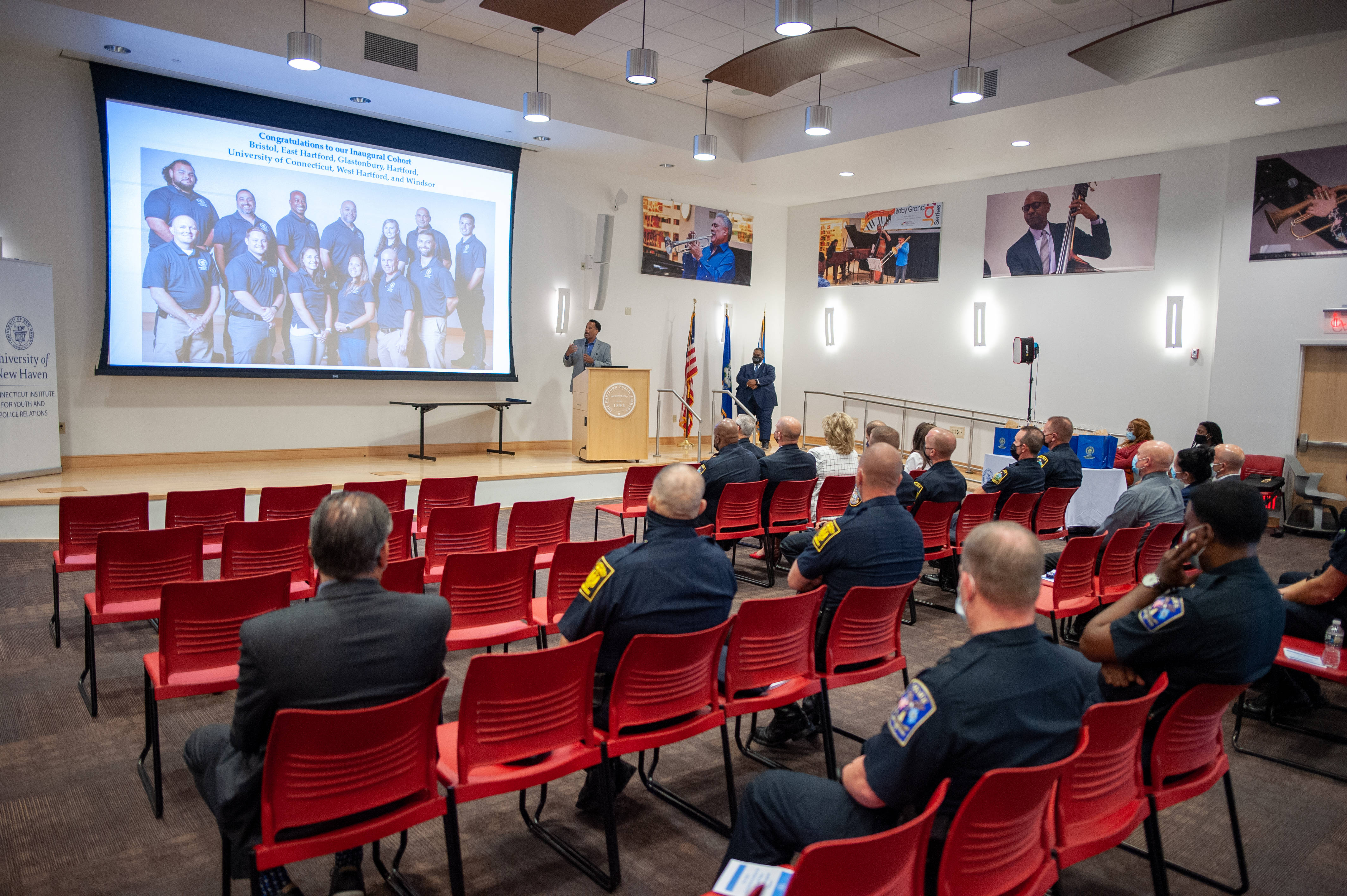 Curriculum and Evaluation
Curriculum

The curriculum is designed to promote the following outcomes:
Changes in attitudes
Awareness of issues
Adoption of new policing strategies informed by research and best-practices related to youth justice
These outcomes will be derivatives of the curriculum and reinforced through the capstone project.
Training learning objectives for each day are:
Relate Policing with Experiences in the Community
Review Obstacles and Solutions to Policing Fragile Communities
Summarize Opportunities for Positive Engagement with Youth and Young Adults
Strategize the Implementation of Policies in the Community
Review Plans for Community Engagement through Capstone Projects
Discuss Transitioning from the Capstone Plan to Implementation
Prepare for Final Capstone Project Write-Up
Complete the Final Capstone Project Write-Up and Presentation
Session topics include:
Understanding the Youth & Young Adult Brain
Juvenile Justice System from Lived Experiences
Working Effectively with Traumatized Youth
Understanding & Reducing Implicit Bias when Policing Youth of Color & Fragile Communities
Effectively Asserting Authority with Youth
Partnering with Youth-Serving Community Based Organizations
Effective Police Outreach Programming for Youth
What Policies Do Your Agencies Use for Policing Youth? How Effective Are They? Strengths/Weaknesses
Adopting Developmentally Appropriate Policies
The training wraps up with a Capstone project that will be developed with their supervisor to lend strength to the viability and feasibility for implementation.
Evaluation
To evaluate the implementation and outcomes of the program, data will be collected and assessed from a variety of sources. During the recruitment process, the geographic scope of exposure, number of total applicants, and total number of final participants will be assessed.
Evaluations will be conducted at the onset of the training, before each session, and at the conclusion of the program to assess the array of attitudinal and educational changes that may result from participation in the Institute.  Participants will be asked to complete an online questionnaire measuring their attitudes and awareness about youth, youth justice, and juvenile justice issues and efforts locally and nationally. During the program, participants will take brief questionnaires to check-in throughout the day about the speaker and activities.
The capstone will serve as the overall assessment of the participants' learning and ability to apply the training in the workforce and community. At the end of the training, additional follow-ups will be conducted with the participants to continue technical assistance, as well as gauge additional changes or progress with the individual officer and their agency. Contact will be made with participants one month after completion and four months after completion  to assess changes in individual and agency perspectives.
This evaluation plan serves to aid the development and piloting of the training and provide start-up structure for a long-term evaluation of the efficacy of the program. Evaluation of long-term outcomes will be developed in concert with our funder.