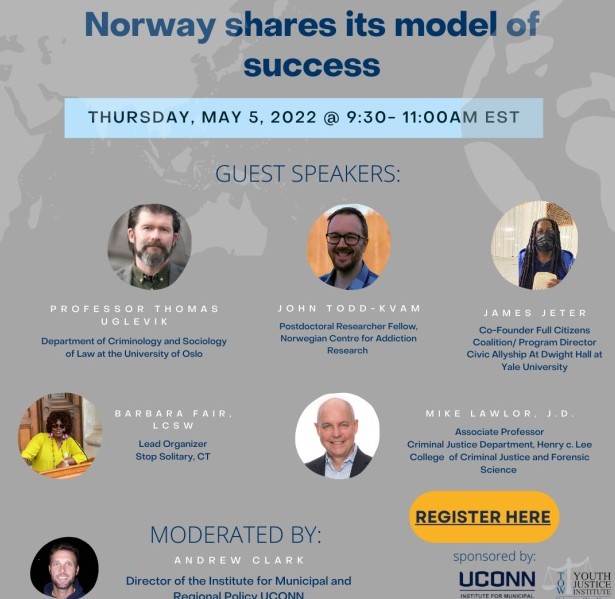 Corrections as Rehabilitation: Norway shares its model of success
The Institute for Municipal and Regional Policy at the University of Connecticut and the Tow Youth Justice Institute at the University of New Haven are partnering on the webinar series "Corrections as Rehabilitation: Norway shares its model of success". This virtual series will feature conversations among several researchers, practitioners, policymakers, and impacted individuals from Norway, along with peers here in Connecticut, as we discuss our respective correctional systems and what we can learn from each other.
The first of three webinars took place on Thursday, May 5th at 9:30 a.m. EST  Andrew Clark, Director of IMRP moderated and Dr. Danielle Cooper, Director of Research at the Tow Youth Justice Institute provided a welcome.  We heard from Thomas Ugelvik, Professor in the Department of Criminology and Sociology of Law at the University of Oslo, about The Norwegian Prison System and the Norwegian Correctional Service. We also learned about re-entry and post-release aftercare from John Todd, a Postdoctoral researcher affiliated with the Norwegian Centre for Addiction Research.  In addition, panelists also included Michael Lawlor, Barbara Fair and James Jeter.
You can view the webinar HERE.
Two more webinars will take place on May 24th and June 14th.  Stay tuned for details!