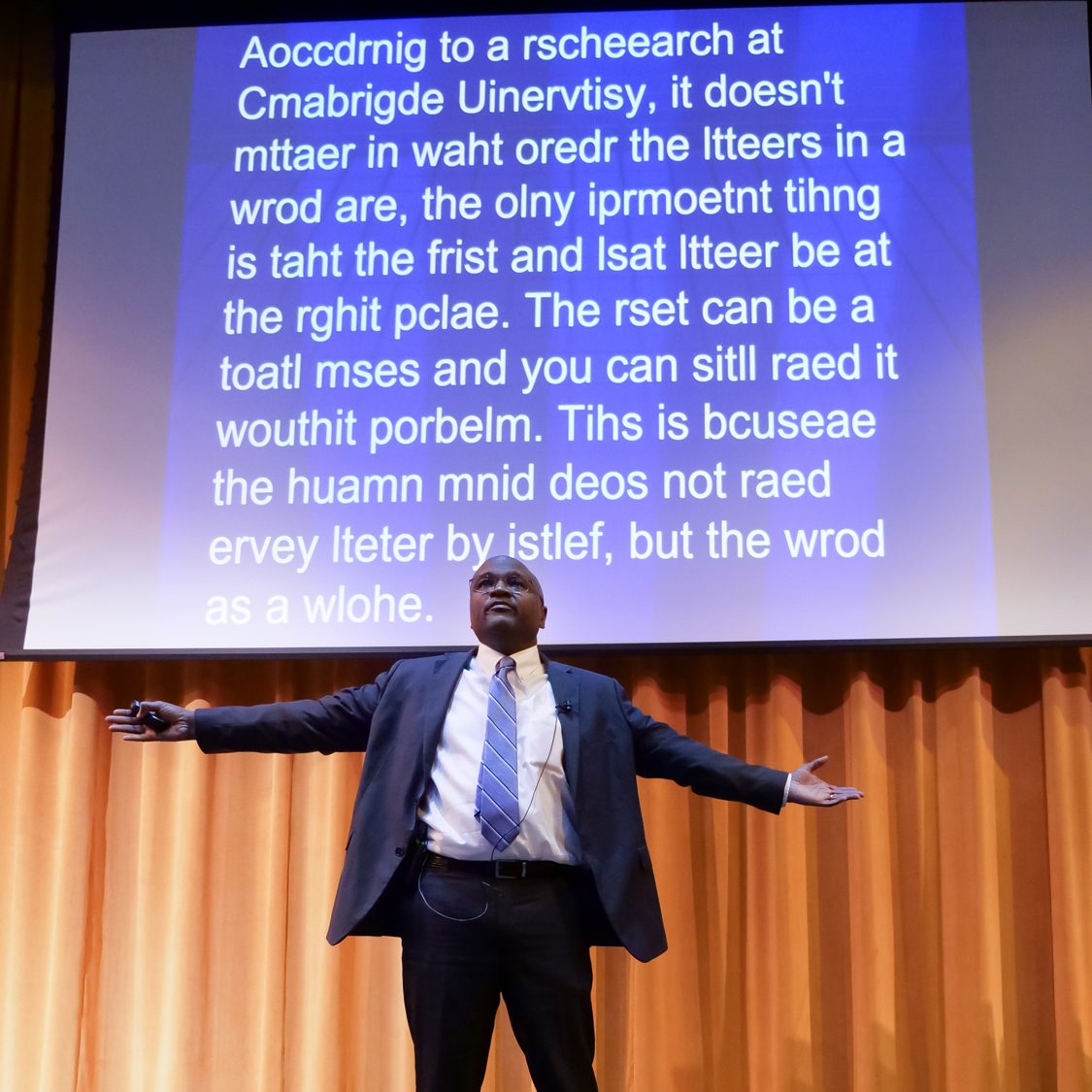 2019 Events
Kickoff to Council of State Governors IOYouth Initiative in Connecticut
June 11, 2019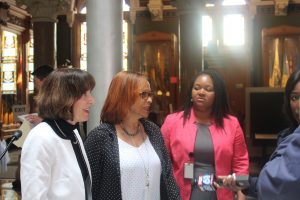 Connecticut officials launched an in-depth assessment of the state's juvenile justice system. This review, which has the support of Governor Ned Lamont, will examine what happens when youth come into contact with the system and how they move through it. The review will also study the impact of recent legislative reforms and identify ways to better allocate resources to increase public safety and improve outcomes for youth.
The review will be spearheaded by the Improving Outcomes for Youth (IOYouth) Task Force—which comprises a bipartisan group of officials from the state's judiciary, Departments of Education and Children and Families, law enforcement, community providers, and more—and is co-chaired by Secretary of the Office of Policy and Management Melissa McCaw and State Representative Toni Walker. This review will be conducted in partnership with The Council of State Governments (CSG) Justice Center, a nonpartisan, nonprofit organization that develops research-based strategies to increase public safety and strengthen communities.
Following a competitive process, Connecticut was selected for assistance from the IOYouth initiative by the U.S. Department of Justice's Office of Juvenile Justice and Delinquency Prevention and the National Reentry Resource Center at the CSG Justice Center. The IOYouth initiative helps jurisdictions align their juvenile justice policies and practices with what research shows works to strengthen public safety, help young people succeed, and use taxpayer dollars effectively.
Over the next 12 months, the CSG Justice Center will present its findings and recommendations to the Connecticut IOYouth Task Force, which will reach consensus on policy and administrative changes and resource allocation decisions, including the potential for future legislation.
Non-Profit Open House
June 21, 2019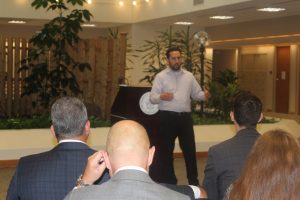 The Tow Youth Justice Institute hosted a Non-profit Open House at the Orange Campus of the University of New Haven. Fifteen local nonprofit organizations and agencies had the opportunity to learn about the University's Experiential Education Program and how they might be able to utilize the University's students.
This program provides students with hands on experience, a realistic view of workplace culture and helps students develop strong professional networks that support their future success. The Tow Youth Justice Institute is committed to our students' professional and educational development. Our goal is to offer students the opportunity for an individualized educational experience through a structured employment environment that helps students develop the skill necessary to prepare them for a lasting career after graduation. We have benefitted every semester from working with students and wanted to share the same asset with other organizations.
During the Open House, juvenile justice centered organizations had the opportunity to meet Faculty and staff from the Henry C. Lee College of Criminal Justice and Forensic Sciences, along with Matt Caporale, Executive Director of the University's Career Development Center. During their presentations, organizations learned about exciting opportunities to host UNH students through academic service learning projects, internships, co-operative work experience, and community work study programs.
Attendees recognized that in challenging fiscal times such as these, partnership with the University offers a mutually beneficial opportunity for organizations and students. These partnerships pair bright, talented, and committed students with local organizations seeking support in the meaningful work they are undertaking within the community. As future leaders, our students value these opportunities and are eager to learn from the dynamic organizations already engaged in youth justice work. As a result of this event, participating organizations have already begun to reach out to the University regarding student engagement for the 2019-2020 academic year.
Opioid Town Hall
April 10, 2019

On April 10, 2019 from 6:30pm to 8:30pm the Tow Youth Justice Institute collaborated with several offices and organizations on campus in hosting an event entitled "Drug, Stress, and Justice: A Town Hall Event". The purpose of this event was to raise awareness about the use and misuse of opioids, marijuana, and alcohol among college students and other young adults. TYJI's Dr. Danielle Cooper, Rashanda McCollum, and Devon McCormick facilitated three sessions:
Behaving "Badly": College Student Edition
Drug Legalization: Facts, Fiction and Opinions
What the Health? Building Coping and Other Skills
These sessions engaged students and faculty from all across campus in interactive conversations, skill building, tips on solution strategizing and information about the self-care services currently available to students on campus including the University's Recreation Center and the Counseling and Psychological Services. The event culminated with Health Promotional Giveaways and Ice Cream and Cookie Social!
Akeem Browder
April 2, 2019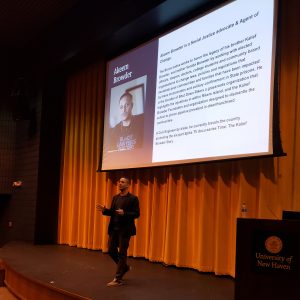 Since the fall of 2018, when the Youth Injustice & the Kalief Browder Story course launched, students have been requesting for more speakers on justice topics. On April 2nd, Akeem Browder, brother of Kalief Browder, during his visit to the University of New Haven, he first addressed students on "How to Live a Civic Life". Among other things, he discussed how the death of his brother Kalief Browder impacted him, his community, New York, and the rest of the nation. He later held a Q&A in the Myatt Center for Diversity and Inclusion where he took questions from students on a broad array of topics.