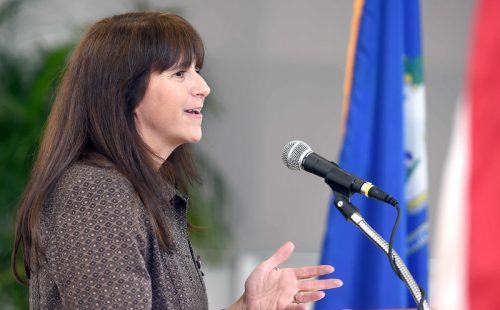 2016 Events
JustLeadershipUSA'S Emerging Leaders Training

JustLeadershipUSA (JLUSA) is partnering with the University of New Haven and the Tow Youth Justice Institute to provide an Emerging Leaders Leadership Development Training for people with criminal justice involvement. JLUSA is dedicated to cutting the US correctional population in half by 2030. JLUSA empowers people most affected by incarceration to drive policy reform.
Westchester County Girls' Justice:  A Peer to Peer Learning with CT
October 14, 2016, Judicial Institute in White Plains, NY
TYJI coordinated and led a CT Team of juvenile justice agencies and providers to focus on Gender Justice in a Peer-to-Peer Learning exchange in Westchester County, NY.  Members of the team from the Judicial Branch and Court Support Services Division included Judge Bernadette Conway, Juvenile Court Matters; Tasha Hunt, Deputy Director of Juvenile Services; Kimball Robbins, Juvenile Probation Supervisor II, Patricia Nunez, Program Manager Juvenile Residential Services, and Kimberly Pabey-Rivera, Juvenile Probation Supervisor.  Chris Jaffer, Director of Residential Services for CT Junior Republic, and Melissa Pelletier, Clinical Director for Journey House/Natchaug Hospital, attended from the contracted provider community.  Tammy Sneed, Director of Adolescent Services for the CT Department of Children and Families was unable to attend.
Kathleen DeCataldo, Esq., Executive Director of the PJCJC Fund, Inc. (a not-for-profit entity with the New York State Permanent Judicial Commission on Justice for Children), and the Honorable Kathie E. Davidson, Supervising Judge, Family Courts, Ninth Judicial District sponsored the event with remarks by the Honorable Rocco A. Pozzi, Probation Commissioner for Westchester County Probation Department.  The event took place October 14, 2016 at the Judicial Institute in White Plains, NY.
The CT team provided an historical context and overview of CT's Juvenile Justice Reform efforts that included the initiative to provide a Gender Specific approach for court-involved females, both juvenile and adult, across the system continuum from child welfare to court-involvement, delinquency commitment, and re-entry.  Additional focus included policy and practice changes for status offenders and Raise the Age legislation, while addressing the unique subject areas of DMST/CSEC (trafficking), LGBTQ, and gender-specific programming.  Presentations and discussions fostered identifying goals and action steps for expanding gender-specific practices in NY.
A NY team comprised of Juvenile Probation, Department of Social Services, Family Court Judges, County Attorney's Office (Prosecutors) and Attorney for the Child as well as community providers visited CT at New Haven Juvenile Court and Journey House in Mansfield, CT in February 2017 to further their inform and inspire the Westchester Girls Justice Initiative.
Emily Tow Jackson- The Power of Philanthropy to Impact System Change
Bartels Lecture Series
Tuesday, April 12, 2016 @ 11:00 AM – 12:30 PM
University of New Haven Bucknall Theater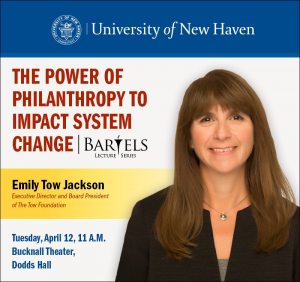 Click HERE for the PowerPoint presentation
Click HERE for a video clip
Ms. Tow Jackson is executive director and Board president of The Tow Foundation (Tow), a charitable organization that supports work in the areas of justice reform, medical research, higher education and cultural institutions. Tow provides funding and creates partnerships with nonprofit leaders, policy makers, and the community in order to accomplish its goals and visions. The foundation is committed to supporting services that are designed to improve the outcomes for vulnerable children and families.  Ms. Tow Jackson joined the Foundation's Board of Trustees in 1988 and has been executive director for more than 20 years. In 2012, Barron's magazine lauded her as a standout among "The Giving Generation." You can find more information on the Tow Foundation and her bio.
The Tow Foundation is primary funder for the University's Tow Youth Justice Institute (TYJI), the first of its kind in Connecticut dedicated to juvenile-justice reform. The TYJI was established in October 2014 and is rapidly growing.
CT Police Executives Juvenile Justice Conference
Thursday, April 07, 2016 – Friday, April 08, 2016
Nearly 40 members of law enforcement from all different ranks and towns came together to learn about juvenile justice and child welfare. On April 7 and 8, law enforcement officers gathered at the "Connecticut Police Executive Juvenile Justice Conference," in association with the Connecticut Police Officer Standards and Training Council and the Connecticut Police Chiefs Association. The event, hosted by the Tow Youth Justice Institute and the Center for Advanced Policing, was held at the Saw Mill Campus of the University of New Haven and covered multiple topics, including adolescent brain development, juvenile justice reform in the State of Connecticut, and strategies for juvenile re-entry, among other topics.
The conference featured guest speakers who all are experts in the field of juvenile justice. Steven Marans, MSW, Ph.D., of the Yale Child Study Center was the first speaker for the two-day conference. Marans explained how interaction between adolescents and law enforcement is dependent on how the adolescent has developed. Robert Haas, the police commissioner of Cambridge, Massachusetts, discussed the Cambridge Massachusetts Experiment, which touched upon effective interaction strategies between law enforcement and youth. At the time of this conference, Governor Dannel Malloy had recently proposed legislation in Connecticut to include 18- to 20-year-olds in the juvenile justice system, and OPM Undersecretary Michael Lawlor was able to present on this. Mr. Lawlor also discussed the potential effects the proposed legislation would have on law enforcement and further discussed juvenile crime. Other youth justice activists and experts presented valuable information about adolescents during the conference as well.