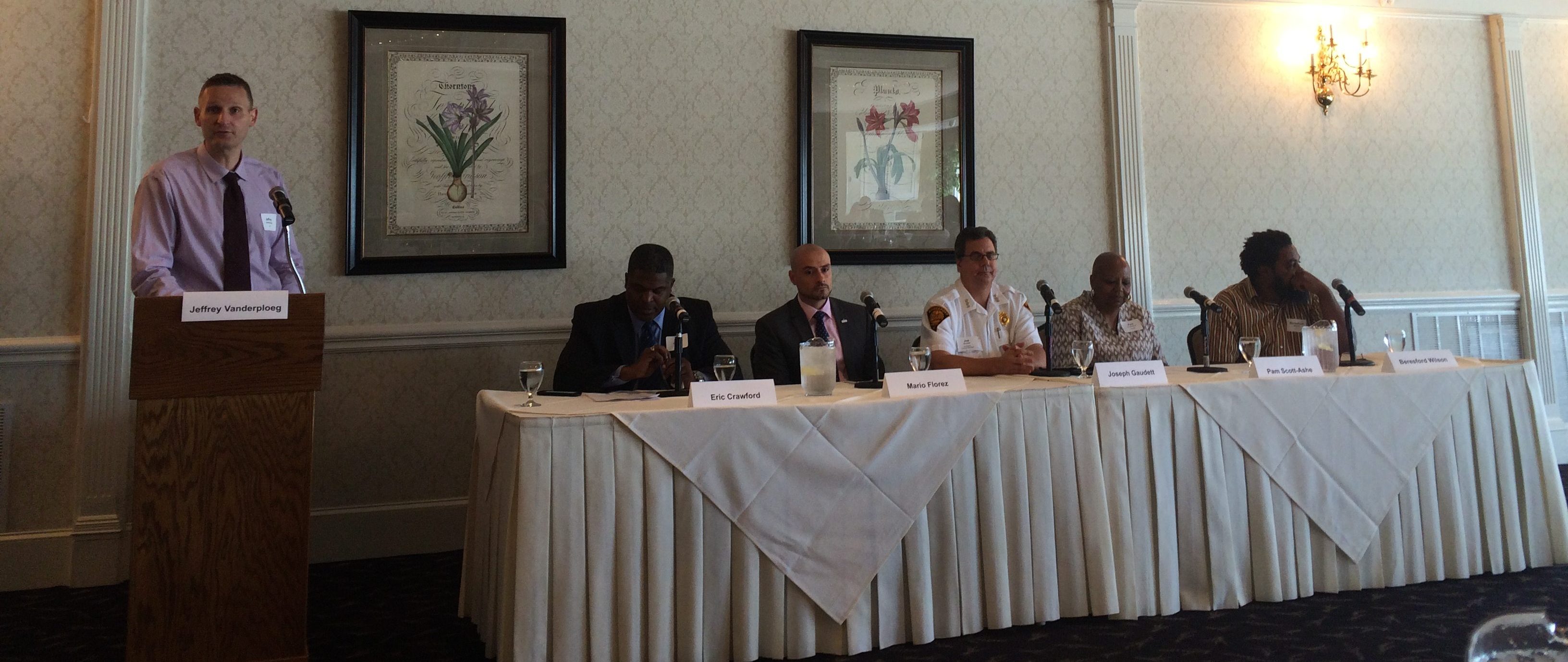 2015 Events
America's Distorted Image: The Over-Incarceration of African Americans
Wednesday, October 21, 2015 @ 4:30 PM – 6:30 PM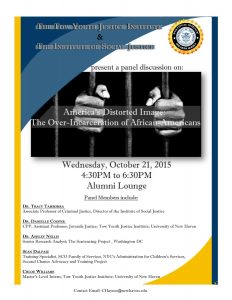 The issue of the over-incarceration of African-Americans took center stage during a presentation and panel discussion on October 21, 2015 at the University of New Haven. The discussion, "America's Distorted Image: The Over-Incarceration of African-Americans," included a panel of faculty and students from the University of New Haven, as well as a guest speaker from The Sentencing Project in Washington, D.C.
The presentation began with a lecture by UNH Criminal Justice Associ- ate Professor, Tracy Tamborra, Ph.D., on the history of treatment of African-Americans from a criminal justice perspective that included explanations of Jim Crow laws, slavery, peonage, the War on Drugs and the prison industry. "More than 60 percent of all incarcerated persons are ethnic and racial minorities… One in three black males are likely to be imprisoned in their lifetime," said Dr. Tamborra, who teaches Ethnic and Gender Issues in Criminal Justice and Criminology at the University of New Haven. Tamborra called the incarceration rates "a modern form of slavery," using a slide show of photographs depicting the history of slavery as a part of her argument. "Slavery was in all states, as late as the 1850s in New York and New Jersey. It was not just a 'Southern problem.'" She also highlighted how the Anti-Drug Abuse Act of 1986, which allocated $1.7 billion to fight drug crimes, resulted in a more dramatic prison problem for black males, calling the war on drugs a "trillion-dollar failure."
The War on Drugs is a "trillion-dollar failure"
The mass incarceration of African-Africans is a social justice issue impacting both adults and juveniles. By realizing the multigenerational effect of incarceration policies, prevention efforts can target youth whose social support has suffered as a result of a loved one being removed from the home and community. Social services must be available for adult reentry, but they must also address delinquency prevention to stop the cycle of incarceration," said Dr. Danielle Cooper, a criminal justice professor at the University of New Haven, who was one of the panelists. Cooper also works with the TYJI.
The panelists also discussed the New York Times article, "Police Leaders Join Call to Cut Prison Rosters," as well as a movement to reduce the nation's incarceration rates, pushing for alternatives to arrest, reducing the number of criminal laws and ending mandatory minimum sentences.
Ashley Nellis, Ph.D., a Senior Research Analyst for the Sentencing Project, was a special panelist invited to speak at the forum. Dr. Nellis, who studies criminal justice policies and practices, spoke specifically on racial and ethnic disparities in the context of youth in the juvenile justice system. As the author of A Return to Justice: Rethinking our Approach to Juveniles in the System, Dr. Nellis, who spoke of the treat-ment of youth in the U.S. justice system, has extensive experience in research on racial disparities, life sentences and the sentence of life without parole.
"I believe that this is an important issue, especially with all that has been going on with the Black Lives Matter movement and the social and news media that has been amplifying major racial issues that are going on," stated Chloe Williams, a student at the University of New Haven majoring in criminal justice with a concentration in forensic psychology, TYJI Graduate Intern and panelist. "The over-incarceration of minorities has been a subject that has been spoken about in many criminal and social justice classes in which I have enrolled at the University of New Haven. However, the discussion should not end in the classroom. Black men are still suffering the repercussions of the War on Drugs, which unjustifiably targets black men for the same drug that their white counterparts were using and selling – crack vs. cocaine. Underlying bias is the reason why blacks are a minority in the United States, yet somehow are the majority of the prison population," Williams added.
Many attendees and panelists expressed that they enjoyed the event. "The panel and audience engagement was amazing. The introduction set the tone and informed everyone about the history of slavery and incarceration. We were asked great questions that allowed us to explore topics relating youths and young adults experiences with corrections, perceptions of justice, prevention efforts in the community, and more. Many students told me that they enjoyed the conversation when we discussed it in class the next day," Dr. Cooper stated
The event was sponsored by the Tow Youth Justice Institute, Institute for Social Justice, and the University of New Haven Political Science Department
CCA Suspending Our Students: CT Law and Schools' Responsibilities
Tuesday, September 29, 2015 @ 8:30 AM – 10:30 AM
With new state law effective July 1, 2015, Out of School Suspension is Banned for Young Children up to Grade 2
What does this mean for schools?
How does this affect young children and their families?
What supports are in place to help children with behavioral health issues?
How does the legislation affect classroom teachers?
Hillhouse Students Visit the University of New Haven
Friday, September 25, 2015 @ 9:00 AM – 3:00 PM
 The University of New Haven teamed up with 60 students, as well as Bill Garrity and other faculty from James Hillhouse High School to present them with information about the range of opportunities offered at the university after they graduate from high school. The Hillhouse students are part of the Public Safety Academy located in Hartford, which exposes select students to hands-on learning in three different areas: law enforcement, fire sciences and emergency medicine, law and government and homeland security. The University of New Haven, which is a leading school in criminal justice and forensic science, was a great school for these students to visit based off of these focuses.
Juvenile Justice Reform Training for Police Executives
Wednesday, June 24, 2015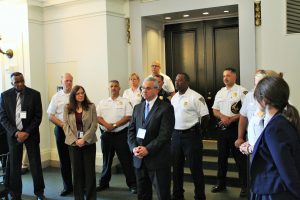 The International Association of Police Chiefs (IAPC) and Law Enforcement Institute of Juvenile Justice held a three-day seminar centering on the juvenile justice reform.
The conference saw more than 30 police chiefs in attendance as well as a variety of presenters, including the University of New Haven's Director of the Tow Youth Justice Institute, William Carbone. Professor Carbone stressed the importance of rethinking how law enforcement and youths interact, saying there was a need "to avoid the event of making arrests and putting kids through the system [because] it's counterproductive."
"We can do the same old thing with kids as we've done for many, many years, or we can learn from what the research is telling us works better. …we've learned a lot about how to more effectively change their behavior."  The symposium consisted of presentations from leaders in child psychology, juvenile justice reform, and community policing experts and round table discussions between the law enforcement executives in attendance.  Many of the chiefs in attendance stated that they planned to take what they were learning at the program back to their departments in an effort to better the often-strained relationship between law enforcement and young people.
The seminar, co-hosted at Yale University with the University of New Haven Henry C. Lee College of Criminal Justice and Forensic Science, has been funded by the John D. and Catherine T. MacArthur foundation since 2011.  You can read more about the event in the New Haven Register or the New Haven Independent.
School, Police, and Community Symposium
Wednesday, June 03, 2015
The 2015 School, Police, and Community Symposium was held on June 3rd 2015 from 9AM-12PM at Amarante's Sea Cliff in New Haven. The symposium included an overview of Restorative Practices and Family Engagement with a keynote presentation by our very own Kitty Tyrol from the Tow Youth Justice Institute on Restorative Justice Practices.
A panel discussion about family engagement with community leaders, including school administrators, family engagement specialists, and law enforcement officials. Guests ranged from law enforcement, detention staff, facility staff from Child, Youth, and Family Support Centers, and school administrators.
These guests were also given the opportunity to ask questions and get feedback from the panelists. Resource kits that included additional information on restorative practices and family engagement were also provided to all guests following the symposium.
Child Health and Development Institute 2015 School, Police, and Community Symposium: A New Approach: How Restorative Practices Can Be Used In Schools and To Engage Families
Sponsored by CT School-Based Diversion Initiative, Child Health and Development Institute, State of Connecticut Judicial Branch, Department of Children and Families, State Department of Education, and Department of Mental Health and Addiction Services.
Training of Trainers Child Welfare Response to Domestic Minor Sex Trafficking
Thursday, May 28, 2015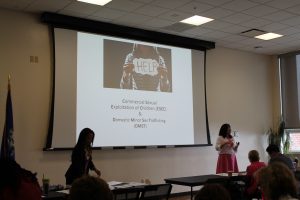 The Training of Trainers event was held by the Connecticut Department of Children and Families at the University of New Haven all day on Thursday, May 28th. The ultimate goal of the event was to have optimal training capacity to educate communities about domestic minor sex trafficking and child sex trafficking and exploitation in Connecticut. Its efforts to increase awareness included an introduction to the topic designed to produce statewide capacity to train communities in this critical issue. This training has already reached thousands in Connecticut through our internal faculty. The statewide initiative is designed to meet the training needs at every level in your local communities, including service providers, medical and mental health providers, schools, churches, hotels, coaches, Girl and Boy Scouts and perhaps parents, grandparents, aunts, uncles, neighbors.
Child Welfare and Law Symposium
Wednesday, May 20, 2015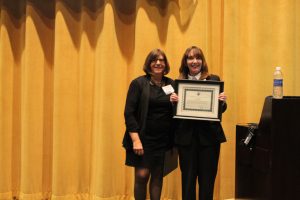 The Tow Youth Justice Institute had the honor of hosting the Child Welfare Law Symposium at the University of New Haven, which was coordinated by the Office of Chief Public Defender this year. The all-day event took place on May 20th in Bucknall Theater with break out rooms throughout campus where participants would hear a variety of presentations. Kitty Tyrol and Jeanne Milstein from the Tow Youth Justice Institute presented a workshop on how the new institute can be a resource for child welfare policy.
The keynote speaker, Amelia Franck Meyer, is the CEO of Anu Family Services presented on the impact of childhood trauma. Sarah Locke from Autism Services and Resources Connecticut presented on Autism in Juvenile Court, and the "Color of Justice" was shown in the theater during the second half of the day.  The afternoons' break-out sessions included speakers from DCF and the Center for Children's Advocacy on advocating for young children, Vermont Legal Aid and Vermont Disability Rights on how to plan and advocate for parents with cognitive limitations, and many more.
The Honorable Judge Bernadette Conway for Juvenile Matters, presented an award to Marilou Giovannucci for Court Improvement Program Innovations and Leadership. Marilou retired from the State of Connecticut Judicial Branch in March 2015 after more than 30 years working in juvenile and family court.  Her title when retiring was Manager for Court Services Officer Programs.  She also served as the Project Director for Connecticut State Court Improvement Project, which manages and distributes federal grant money aimed at improving the outcomes for children and families involved in the state child protection court. Marilou was instrumental in creating the Child Welfare Law Forum and helped the Judicial Branch use their Federal Court Improvement Project dollars to support programs that improved outcomes for children and families.  She specifically supported efforts to provide cross training for the professionals who work with children and families in the juvenile courts.
Christine Rapillo, the director of Delinquency Defense and Child Protection, and Frances Wickstrom, from the Office of the Chief Public Defender, organized this event and collaborating with various resources in Connecticut to help bring awareness to such an important topic.
Restorative Justice Practices Forum
Wednesday, April 29, 2015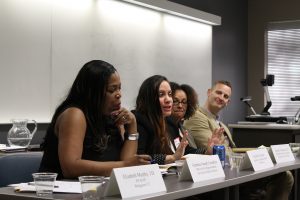 The Tow Restorative Justice Practices Forum was held on April 29, 2015 at the University of New Haven's Saw Mill Campus. The event held two identical sessions with keynote speakers Judge Andrew Becroft and Christine Rurawhe-Gush from New Zealand. Their presentation provided a great insight on the differences between our justice systems and how we might be able to improve.
Since the Children, Young Persons and Their Families Act (CYPF Act) in 1989 was enacted in New Zealand, their youth justice system has been looked at as a innovative and revolutionary. The CYPF Act combines a police-led diversionary approach with family group conferencing from a restorative justice system. Since this act, apprehension rates have continued to decrease to the lowest in recorded history for the country.
Christine Rurawhe-Gush works at the Child Youth and Family Ministry of Social Development in New Zealand and was able to teach us about family group conferencing in New Zealand and the many myths that come along with them. The reliance on family group conferencing is used as a key decision making tool throughout the court process. It allows everyone involved on both the victim's side and the young offender's side to be a part of the decision making in order to repair any harm that was done and prevent any future harm. She explains how important support, engagement, and education can be in changing lives of the youth in our community and shared stories from her experiences.
Other speakers included Judge Bernadette Conway from the State of CT Judicial Branch, Donna Decker Morris from the Legal Studies Department of the Henry C. Lee College, and a panel of speakers from various youth agencies and organizations. The event was sponsored by the Tow Youth Justice Institute and The Tow Foundation.
Program
Judge Andrew Becroft's Presentation Handout
Family Group Conferencing Presentation
Out of Court (And Sometimes In) Playing to Win: Restorative Practices and Processes of the New Zealand Youth Justice System
Myths and Misunderstandings about Family Group Conferencing
Youth Court and Youth Justice In New Zealand
Youth Court and Youth Apprehensions InfoGraphics
National League of Cities Convening 2015
Monday, April 20, 2015
In April of 2015, the CT Youth Services Association, in partnership with the National League of Cities and the Charter Oak Group held a multi city convening at the University of New Haven's Saw Mill Campus.  The purpose of the "All City Convening" was somewhat of a kick-off event for a year-long Initiative entitled "Engaging Municipal Leaders in Juvenile Justice Reform".  The initiative is being funded by the Tow Foundation. The seven cities participating include Bridgeport, East Hartford, Hartford, Middletown, New Haven, Norwich and Stamford.  Each city was represented by a team of leaders that included the Mayor's office, the School District, Police Department, Youth Services, Health Department, Community Agencies, and more.  The purpose of the convening was to discuss data that had been collected by each city, to discuss trends and identification of issues to focus on, as well as to afford an opportunity for cross city learning.  Ultimately, the goal is for each city to create a City Plan that can be used for implementation purposes based on data and needs for their individual community.  The CT Youth Services Association recently submitted an application for funding of Year 2 of this initiative.  The collaboration with the University of New Haven and the Tow Youth Justice Institute continues to remain strong.
Click HERE for the PowerPoint Presentation