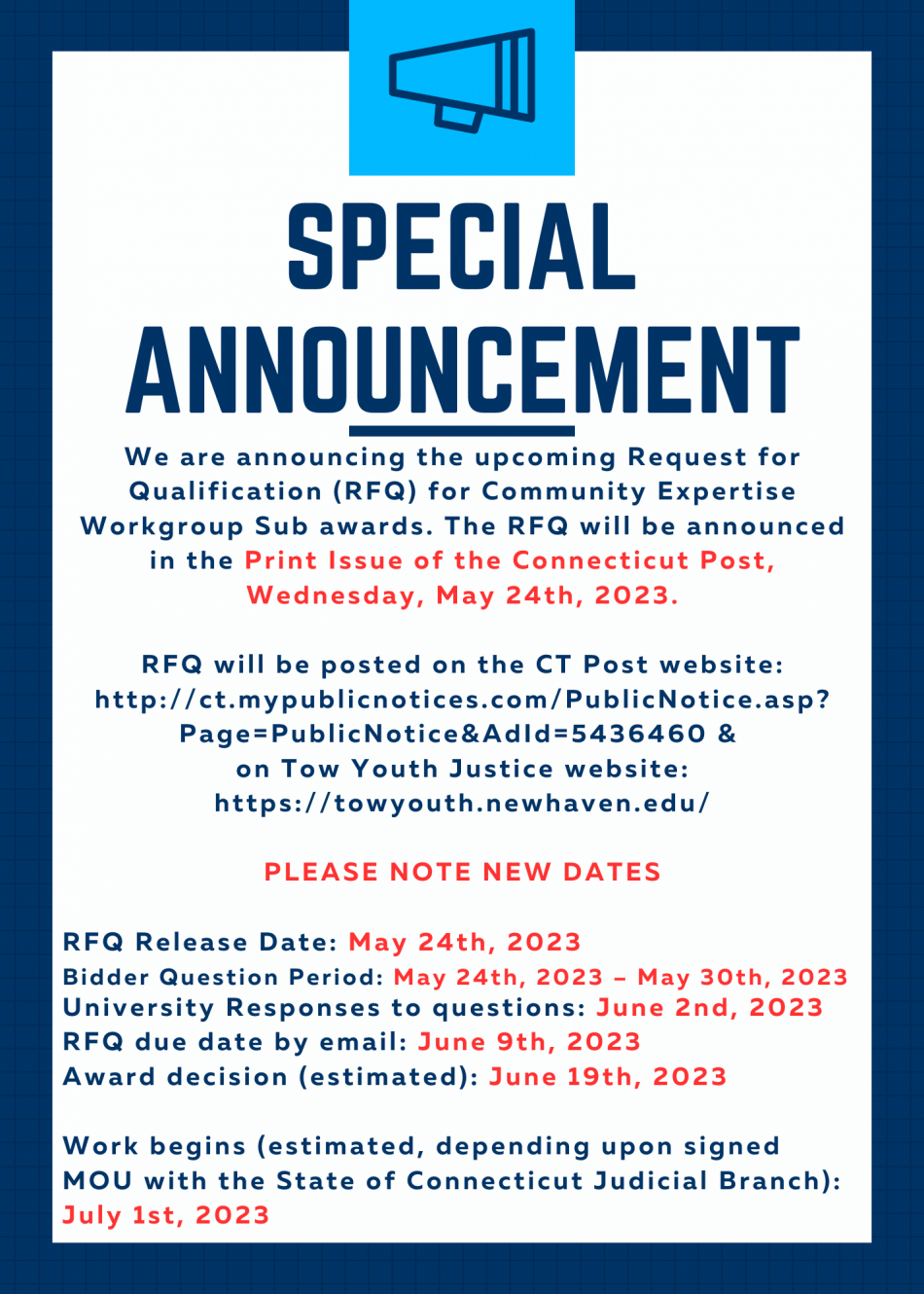 Request for Qualifications- OPEN
R E Q U E S T   F O R   Q U A L I F I C A T I O N S
When quoting us your prices as outlined in this RFQ, you must show Unit Price, Amount and Total or RFQ may be rejected. We reserve the right to reject in whole or in part, any or all Proposals submitted. All products produced under this agreement resulting from this RFQ shall remain the property of the University of New Haven
The Contractor receiving the award agrees and warrants that, in the performance of this contract, he/she will not discriminate nor permit discrimination against any person or group of persons on the grounds of race, sex, sexual orientation or civil union status, physical challenge or mental disability, color, religion, national origin or veteran status, in any manner prohibited by the laws of the United States or the State of Connecticut.
Issued by :
University of New Haven Purchasing Dept.
Agency Telephone Number:
(203) 932-7435
RFQ Number:
2023-080
Return Proposal via Email to: purchasing@newhaven.edu (preferred)
Fax number is 203-931-6061.
RFQ Release Date: 5/24/2023
Proposals Due – Date/Time: 6/1/2023 4PM
Name and Title:
Robert Ossenfort, Director of Purchasing
Services Start Date:
7/1/2023
TIME AND ACTION PLAN:
RFQ Release Date: May 22, 2023
Bidder Question Period: May 23, 2023 – May 25, 2023
University Responses to questions: May 31, 2023
RFQ due date by email: June 9, 2023
Award decision (estimated): June 19, 2023
Work begins (estimated, depending upon signed MOU with the State of Connecticut Judicial Branch): July 1, 2023
CONTENTS OF PACKAGE:                                                                                                           
[  ]          Request for Qualifications pertaining to: University of New Haven – State of CT Judicial Branch
[  ]          Service Location:
[  ]          Standards and Specifications
[  ]          UNH Terms and Conditions
[  ]         Prime Sponsor Terms and Conditions (IF APPLICABLE)
[  ]         Budget Detail and Justification Form
[  [         References Form
PROPOSER (individual/organization contact information)
Name of Organization/Company_______________________________________________________
Contact Person Name and Title________________________________________________________
Telephone and email address__________________________________________________________
Main Address (street, city, state, zip)____________________________________________________
In the past three years, has your organization been banned, prohibited, debarred, terminated or otherwise restricted from doing business with any agency of the State of Connecticut or any other state or government agency?
[   ] No   [   ] Yes  If yes, provide details of this occurrence in the form of an attachment to this bid.
Signature of Authorized Submitter: _____________________________________________________________________
I am an authorized agent of this organization and attest to the correctness of the enclosed proposal and agree to the standard conditions attached to this RFQ.
__________________________________________________________________________________
The University of New Haven hereby notifies all bidders that it will affirmatively ensure that in any contract entered into pursuant to this advertisement, that all contractors will be afforded full opportunity to submit bids in response to this invitation and will not be discriminated against on the grounds of the owner's race, color, national origin, sex, age, disability, income-level, or LEP for consideration for an award.
INSTRUCTIONS TO PROPOSERS
All Requests for Qualifications issued by the University of New Haven will bind proposers to the Standard Instructions listed below, unless specified otherwise in this RFQ or subsequent amendment to contract based on this RFQ.
Complete and sign cover page and return it to the University as the front page of your proposal.
On the Budget Form provided (see link below) please submit an itemized budget and budget justification explanation of costs based on the delivery of services outlined in the Standards and Specifications. Please clearly indicate and separate out labor charges by individual, basis for charges, any materials or supplies, other costs with accompanying narrative explanation. Please include item description, unit price, total cost, number of hours if applicable, number of persons receiving goods or services if applicable.
All proposals shall be submitted using the RFP budget template. Please email purchasing at purchasing@newhaven.edu to obtain the budget template.
Please respond to the questions on the Statement of Qualifications. Please limit your response to 3 pages.
Please complete the References Form below.
Please combine all documents as one PDF and email as an attachment to purchasing@newhaven.edu. SUBJECT LINE SHOULD INDICATE RFQ NUMBER (found on cover page)
The University of New Haven preferred method of submission is email. If needed, you may fax the document to 203-931-6061. If you do not receive a confirmation email within 48 hours please contact us.
 Authorized Signature – Proposals must be signed by a company officer or representative authorized to make contractual commitments.
 Late Proposals – Proposals received after the date and time specified for public opening on Page 1 of this document will not be accepted.
 Price – Proposals shall include pricing as outlined in the RFQ document.  In the event of a price discrepancy between the unit prices and extension, unit prices will govern.
Offer Firm – Responses to this RFQ, including proposal prices, must remain firm for a period of 120 days from the published date for submission of proposals. The University of New Haven shall not be liable for any costs incurred by the proposer in the preparation of this proposal.
All costs incurred in the preparation of a proposal responding to this RFP will be the responsibility of the Offeror and will not be reimbursed by UNH.
Rejection of Nonconforming Proposals – Proposals are subject to rejection in whole or in part if they limit or modify any of the terms and/or specifications set forth herein.
Changes to Proposals – No additions or changes to the original proposal will be allowed after the specified date and time for public opening.  While changes are not permitted, clarification at the request of the University may be required at bidder's expense.
  Rejection for Default or Misrepresentation – The University of New Haven reserves the right to reject the proposal of any proposer that is in default of any prior contract or for misrepresentation.
Award – Proposals will be evaluated and awarded to the lowest competitive proposer based on quality of the goods and services to be supplied, their compliance with specifications, price, administrative costs, ability to perform within the required time or without delay, skill, judgment and experience, past performance, and financial responsibility. The University of New Haven reserves the right to award this RFQ in whole or in part as may be in the best interest of the State of Connecticut Judicial Branch MOU and University of New Haven.
The University of New Haven reserves the right to reject any and all proposals received in response to this RFP. It is understood that submitted proposals will become part of UNH official files without further obligation. A contract for the accepted proposal will be based upon the factors described in this RFP.
The University of New Haven reserves the right to partially award the scope of work, based on the quality of proposals received.
Notification of Award – It is estimated that a decision selecting the successful proposer(s) will be made by June 19, 2023.
            Clerical Errors – The University of New Haven reserves the right to correct inaccurate awards resulting from its clerical and administrative errors.
            Non-Collusion –  The individual submitting the bid or proposal affirms that he/she is duly authorized to execute this contract, that this company, corporation, firm, partnership or individual has not prepared this bid/proposal in collusion with any other bidder/proposer, and that the contents of this bid/proposal as to prices, terms or conditions of said bid/proposal have not been communicated by said individual nor by any employee or agent to any other person engaged in this type of business prior to the official opening of this bid.
            Presentation of Supporting Evidence – Proposers must be prepared to present evidence of experience, ability, service facilities and financial standing necessary to satisfactorily meet the requirements set forth in the RFQ or those implied in the RFQ.
            Amendment or Cancellation of the RFQ – The University of New Haven reserves the right to amend, modify, cancel or otherwise change this RFQ at any time if it deems it in the best interest of the goals of the project.
STANDARDS AND SPECIFICATIONS
INTENT
The University of New Haven, is soliciting responses to this Request for Qualifications (RFQ) from qualified individuals/organizations to serve as a contractor for resources required to fulfill the strategic goals of the State's Juvenile Justice Policy and Oversight Committee (JJPOC). https://towyouth.newhaven.edu/jjpoc-workgroups/
BACKGROUND
In 2014, the State of Connecticut established the Juvenile Justice Policy and Oversight Committee (JJPOC) through Public Act 14-217 to oversee the continued reform of the juvenile justice system. Since the creation of the oversight body of legislators, public defenders, prosecutors, advocates, police and community organizations, the JJPOC has passed seven years of legislation.  Over the years, these reforms have led to significant improvements in the policies and practices in the juvenile justice system. A strategic plan is developed every three years, and updated annually, to guide and direct the work.  Workgroup and sub workgroups each year study various aspects of the system that need reform in line with the strategic goals and engage in research and other assistance they identify as needed to develop recommendations for legislation each year.
PURPOSE/SCOPE:
Contractor will facilitate youth and/or parent voice at the JJPOC and JJPOC workgroup and subcommittee meetings, as follows:
Requirements for Community Expertise Workgroup Partner Organizations
The Community Expertise workgroup (CEW) is a workgroup under the JJPOC that consists of youth, parents, and community members who are passionate about juvenile justice reform. The overarching goal of this workgroup is to increase collaboration and communication between juvenile justice stakeholders and the communities of Connecticut.
Partner organizations are responsible for engaging with their members, providing an orientation to the state's juvenile justice system, encouraging them to attend meetings related to the Juvenile Justice Policy and Oversight Committee (JJPOC). It is important to allow space for each organization to meet with their group to discuss specific JJPOC meetings, help answer any questions, and encourage each member to use their voice. Each organization can create their own meeting schedule that fits their needs. The group will come together to plan specific events as needed.
Partner organizations bring their members together once a month to meet as CEW. At the CEW meetings, the members will discuss and prioritize specific juvenile justice issues and policies they would like to address and create recommendations as to how to resolve them. CEW may invite guest speakers to their meetings to create educational opportunities for their community. Additionally, these members will strategize ways to further engage their communities, such as surveying community members on their feedback regarding specific juvenile justice policies. The CEW will offer recommendations to the JJPOC, for possible legislative and or policy reforms, and on how to improve authentic engagement with youth and communities.
SELECTION PROCESS
The selection process shall include:
Review and assessment of qualifications as proposed by Selection Committee
Confirmation of references
Interview
CONTACT INFORMATION
Questions pertaining to this RFQ should be addressed to:
Contact Person: Robert Ossenfort; purchasing@newhaven.edu
Inquiries to other persons may disqualify the bidder from consideration.
RELATIONSHIP BETWEEN THE PARTIES
Awarding of this contract will be for services with the University of New Haven and not a contract for employment.  As such, the Contractor shall not be entitled to any employment benefits from the University of New Haven. Contractor will be expected to enter into a Services Agreement with the University of New Haven.
OWNERSHIP OF SUBSEQUENT PRODUCTS
Any product, in whatever state of completion and whether acceptable or unacceptable, developed under a contract awarded as a result of this contract shall be the sole property of the University of New Haven. Contractor agrees that work performed under this contract is a "work made for hire" and that the University of New Haven shall be the sole and exclusive owner and copyright proprietor of all rights, title and interest in and to the work.
If for any reason the work does not constitute a "work made for hire" under applicable law, the Contractor agrees, to the extent that such rights are held exclusively, to provide irrevocable transfer and assignment to the University of New Haven ownership of the entire right, title and interest in and to the work and all rights associated with copyrights.  Contractor agrees to execute all papers and to perform such other proper acts as the Judicial Branch may deem necessary to secure for Judicial Branch the rights herein assigned.
JOB DESCRIPTIONS, QUALIFICATIONS
The applicant should meet the following qualifications:
A 501(c)3 organization in the State of Connecticut working directly with youth, families and community members who have experienced some interaction with the juvenile justice system in the State.
Awarded organization must have dedicated staff for this project
Awarded organization must provide written material that details strategies used to engage, recruit, and train youth, families, and or community members.
EXPECTATIONS
The contractor will be expected to:
Enter into a Service Agreement with the University of New Haven
Maintain records of all expenditures under the agreement
Maintain records of all products/activities/data/outcomes pertaining to the work under the agreement.
Provide copies of the sign-in sheet for all workgroups attendance by a youth, family member, and or community member.
Adhere to State of CT Judicial Branch MOU requirements and conditions.
COMPENSATION
It is anticipated that four bids will be awarded for this project and compensation, per bid, will not exceed : $20,000
Two of the major barriers that impact parents and youth ability to participate in this work is financial capacity and coverage for childcare and transportation. The project budget must include compensation for Youth, families, and community members. A standard stipend rate is outlined below:

Transportation: (To be reimbursed at the federal transportation reimbursement rate)
Childcare:
Stipends:
The execution and implementation of this award is contingent upon the Tow Youth Justice Institute receiving funding from the State of Connecticut for the purposes of carrying out the responsibilities of the JJPOC.
STATEMENT OF QUALIFICATIONS:
Respondents shall submit qualifications not later than the time and date specified on Page 1 of this RFQ.
Please submit no more than 3 pages describing:
A statement of interest; and availability
Organization mission and number of years active, tax-exempt status if applicable,
Pertinent experience, capabilities
Capacity to provide the work
Relevant certifications or training
Financial management capabilities
Any other information that would indicate your qualifications to perform the work within the period specified on the cover page.
REFERENCES FORM
Please list up to 3 references that demonstrate relevant work:
1) Name of Organization/Company:
     Address:
     Contact Name, e-mail, telephone:
      Dates of Work Performed:
     Description of Work Performed:
2) Name of Organization/Company:
     Address:
     Contact Name, e-mail, telephone:
      Dates of Work Performed:
     Description of Work Performed:
3) Name of Organization/Company:
     Address:
     Contact Name, e-mail, telephone:
      Dates of Work Performed:
     Description of Work Performed: