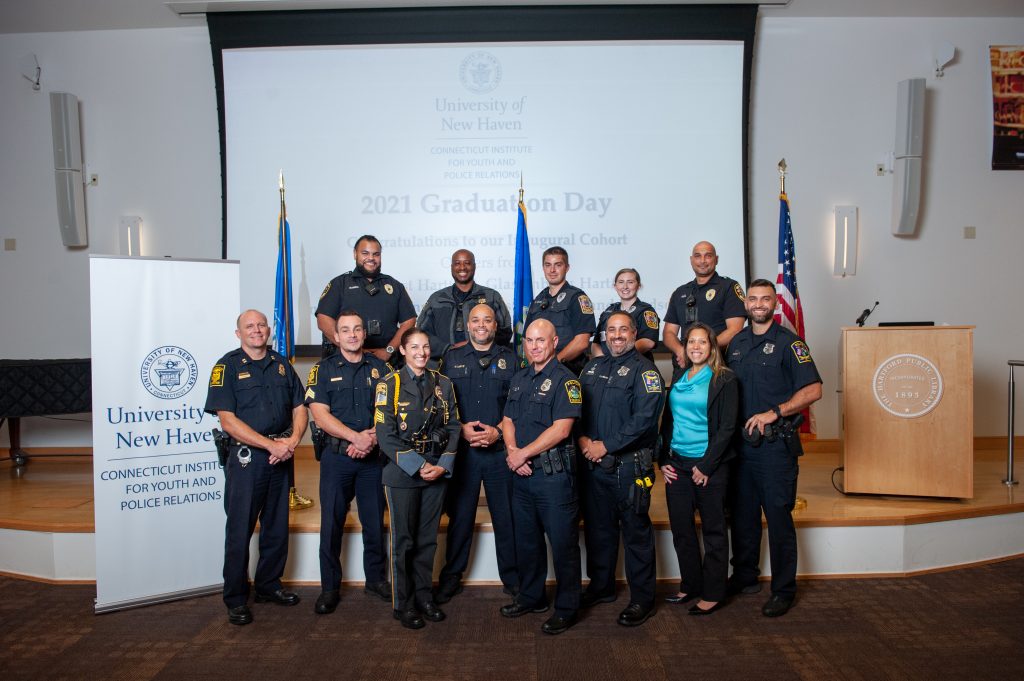 Connecticut Institute for Youth and Police Relations Graduates First Cohort!
Top row: Officer Edward Harris(Windsor), Sergeant Kevin Small(Hartford), Officer Kory St. Pierre(Bristol), Officer Erika McNally(Bristol), Officer Carmelo Pena(Windsor)
Bottom row: Captain Jeffrey Rousseau(Hartford), Sgt Liam Bojka(Hartford), Sgt Rachael Levy(UConn), Officer David Flores( E Hartford),Officer Marc Caruso(E Hartford), Officer Peter Kisela(W Hartford), Officer Sue-Ellen Jobes(Glastonbury), Officer Joseph Hopkins(W Hartford)
On Friday, September 10th, 14 members of the inaugural cohort of the Connecticut Institute for Youth and Police Relations graduated from the first phase of the program, the eight months of training. Mayor Luke Bronin of Hartford provided welcoming remarks and Jay Williams, President of the Hartford Foundation for Public Giving was the keynote speaker.
Officers were from the communities of West Hartford, Hartford, East Hartford, Bristol, Glastonbury, Windsor, and the University of Connecticut.  The next phase is to work on implementing a capstone project.  These are a few of the projects!
West Hartford Police Officers Joe Hopkins, Peter Kisela, and Nick Sanford have organized a 6-week program with weekly meetings focused on third to eighth graders. Their partnership with the Hanoc Center will sustain their goal of community outreach, being involved with the community, and several important topics including social media, peer pressure, and substance abuse.
Officers Kory St. Pierre and Erika McNally of the Bristol Police Department are creating a community engagement project where they will partner with JRBs and Bristol's Youth Services Department. The quarterly program will invite 15-20 other officers to participate in the trust-building events with the community.
Officers Marc Caruso and David Flores of the East Hartford Police Department will be working with Mayberry Elementary school to host a leadership program, where eight fifth grade students will be selected by the principal and school administration to lead the sessions. The Citizen and Adult Academy is part of the partnership, and the goal is to organize a group of police officers and teachers to join the Leadership program and make progress toward building trust between the community and police.
Officer Sue-Ellen Jobes of the Glastonbury Police Department will be addressing youth in the community that need more access to group involvement with other youth and police. Glastonbury High School, Orange Theory Fitness, and Glastonbury Police have agreed to a long term goal of fostering trust between youth and police. The program is intended for high school students, monthly meetings will take place where everyone can interact as a group and become confident in their trust with the community.
Captain Jeffrey Rousseau, Detective Kevin Small, and Sergeant Luan Bojka of the Hartford Police Department have developed a community engagement project based on trust building for the Hartford Police and high school youth aged 13 to 18. Partnerships between the state attorney's office and the Hartford School Safety Director have been formed in support of the overall goal of trust-building outcomes and involvement between officers and youth.
Sergeant Rachael Levy of the University of Connecticut Police Department has developed a program in conjunction with the Husky Watch Program. Along with student employees and other police officers, they are revitalizing the program to include resources and supplemental information for students to get involved and expand their knowledge of community engagement, and work towards finding a career path that is right for them.
Windsor Police Officers Carmelo Pena and Officer Edward Harris have partnered with the Sparks Program at the local high school to start a collaborative youth program. The goal is to offer coaching and support to participating youth, and other police officers.
To learn more about the program and its goals and curriculum, click HERE.  To view the photo gallery from the graduation, click HERE.
We are grateful for the following partners that made this program possible.